Reviews
Moments Of Pleasure : The Music Of Kate Bush
Rockfiend review of our Dover Booking Hall gig
21st October 2024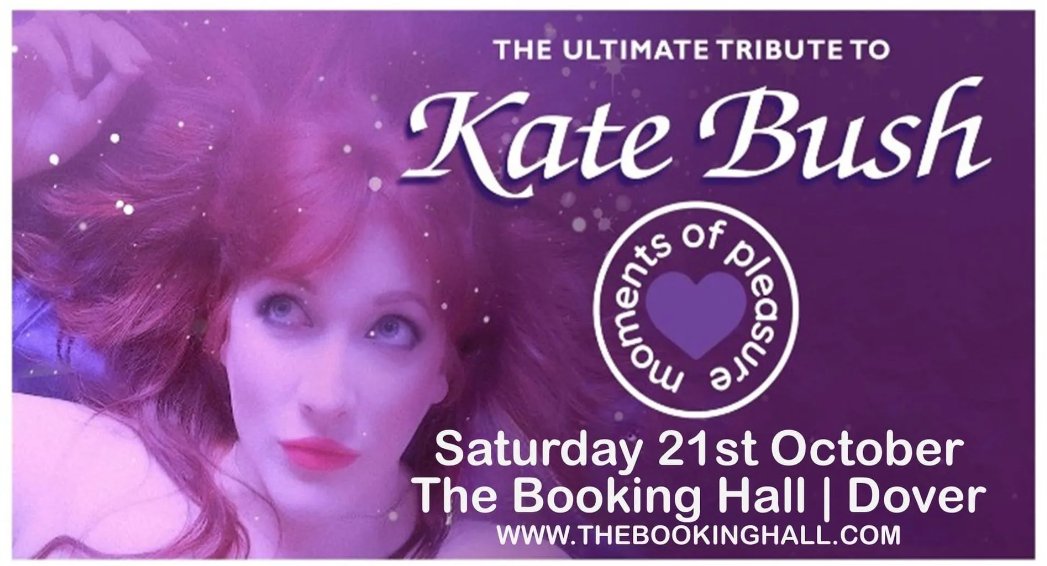 If I hadn't got chatting to the guitarist from Moments of Pleasure earlier this year, there's no way I'd have gone to see a Kate Bush tribute. Not because I dislike her - quite the contrary - but because I'd decided that it would be impossible for any tribute to do justice to the work of such a unique artist. And honestly, it was hard for me to imagine anyone being able to sing Wuthering Heights without sounding much like a cat being strangled. But after assurances that they had a really good front-woman, confirmed by a quick visit to YouTube, I figured it was probably worth a trip to Dover to see for myself.

And thank goodness I took a chance. Kate Bush herself summed it up best when she sang the words, "wow, wow, unbelievable!" Moments of Pleasure certainly put on a show and, given that Kate hasn't graced a stage since her Hammersmith residency nine years ago (and has still toured only once in her career), should be the tribute of choice for any discerning fan. The band pride themselves on their lack of gimmicks, and it is truly their strength. There's no dodgy costumes, no elaborate stage sets, just five people playing these songs to absolute perfection. It can't be an easy task, but the eccentricities of the source material are all in place.

Vocalist Lisa-Marie Walters is something of a revelation, a mesmerising presence who renders the audience almost unable to look anywhere else. It's as if she has absorbed something of Kate's energy, and the startling similarity in her vocals is apparent from the moment Moving breaks the still of the Booking Hall. Symphony in Blue and Kashka from Baghdad are new ones on me (clearly I need to revisit Lionheart) but I found myself utterly captivated. It's refreshing to see a tribute take on so many deep cuts, the achingly sad Never Be Mine (one of my personal favourites) and three numbers from The 9th Wave in the first half alone.

This Woman's Work is performed so beautifully that it should render the crowd silent, but there's always a few people who seem incapable of shutting up for longer than about ten seconds. Accompanied only by Mark Feven's keyboard, Walters does a wonderful job, marred only by some irritating murmurers and doors banging at the back of the hall. It's a minor annoyance that persists through many of the gentler songs, including the band's namesake and The Man with the Child in His Eyes. Hooray then, for the likes of James and the Cold Gun that allow these talented musicians to really cut loose and successfully drown out the background noise.

The hits are, of course, all present and correct, each as spectacularly idiosyncratic as the last. Whether it's the story of an unborn baby during a nuclear holocaust (Breathing), the "utterly bonkers in the best way" Sat in your Lap or the instantly recognisable Wuthering Heights (complete with a spot-on guitar solo courtesy of Rob Miles), all sound fantastic and leave me reflecting on Kate Bush's genius. Nobody has ever sounded the same, before or since. All the more impressive then, that with your eyes closed, you could be in the presence of the originator.

Predictably, Running Up That Hill is saved for an encore, a song that has become so ubiquitous since being used in Netflix drama Stranger Things that it's hard to imagine there's anyone alive who hasn't heard it. And, just as I'm thinking they've forgotten to play Cloudbusting, I'm proved gleefully wrong. It's the perfect closing number, getting everyone clapping and dancing. If you need to hear these songs live, this is the way to do it. You'll find more than a few Moments of Pleasure in these two hours of blissful, startling music
---
Choice Radio Worcester review of our Huntingdon Hall gig
8th April 2022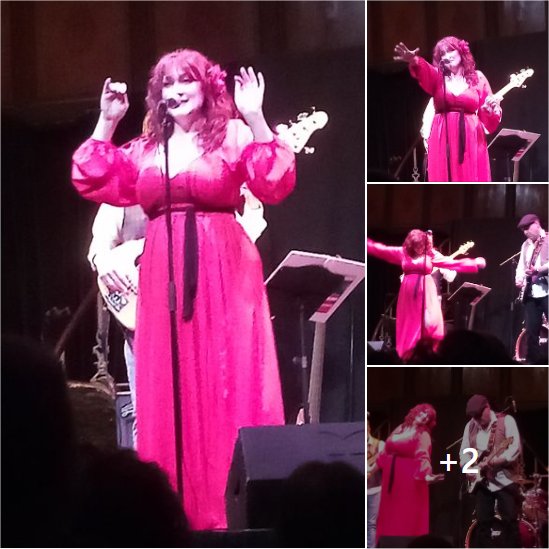 It is no easy feat to pay tribute to one of the UK's most ground-breaking and iconic singer songwriters but that is what Lisa-Marie Walters aimed to do with her show Moments of Pleasure in homage to, of course, the wonderfully distinctive repertoire of Kate Bush. With her 4-piece band (keyboards, bass and lead guitars and drums (and mandolin)) accompanying her, she really has a plethora of songs to choose from, some hits, some less well-known but all with that distinct feel of the expert songstress who wrote one of her biggest hits, The Man with the Child in his Eyes, when she had just entered her teenage years.

Coming on stage dressed entirely in black - with the addition of a hat for one song - and in bright red for the second half, Lisa-Marie had all the right moves to portray Kate's trademark way of performing: balletic, arms flailing, eyes looking around as if searching for something, voice high or deep as required by the song. The range of Kate's songs, especially when sung live and in succession, is a test for any vocalist. Some were beautifully simple ones accompanied by just the piano - the second half started in such a way with This Woman's Work and Moments of Pleasure - then there are those need a much heavier backing such as James and the Cold Gun, Running up the Hill, Sat in your Lap and Hounds of Love (which has one of the best album covers of all time!) and sprinkled amongst them, the definitely more off-beat, left-field and sometimes frankly weird compositions like Breathing (a song about an unborn baby and a nuclear attack), tracks from the Ninth Wave (side 2 of the 1985 Hounds Of Love album) and , of course, the seminal Wuthering Heights - the latter being kept till the very end for the encore. Whatever the song, Lisa-Marie's vocals were spot on and even when the band were pounding away, never for a moment was her voice lost, always rising above the instruments however loud they played.

It is somewhat disconcerting to think that it is nearly 45 years since Kate first arrived so spectacularly on the music scene but equally good to know that we can still hear accurate live renditions of her music today courtesy of the likes of Lisa-Marie.
---
What People Are Saying!
| | |
| --- | --- |
| Ian Neale | If you are like me and loved the Kate sound, this is the nearest you'll get. We've seen 5 Kate Bush tributes and every one deserves praise for taking on a massive task. But this gets the sound the best. 2 shows booked, 8 already seen. |
| Billy York | As a bona fide Kate Bush Fan I can say I was slightly wary of any tribute act covering our Kate's incredible career of singles and album tracks. FOTF: Enter Moments of Pleasure featuring Lisa Marie Walters. Eight bars into the first song and any doubts evaporated and what followed was an unforgettable set including: 'The Man With The Child In His Eyes' through to 'Cloudbusting' and even 'James And The Cold Gun' finishing with 'Wuthering Heights' and 'RUTH'. Lisa's voice and delivery was breathtakingly authentic. Her performance was stellar, backed by four great musicians. Any KB fan who wants to experience a live perfomance get along to a gig by 'Moments Of Pleasure'. |
| Chris Page | I've seen many live acts and many tribute bands over the years. Over that time I have seen Australian Pink Floyd a lot, considering them to be musically and vocally just about the best tribute band there is. Until now. Wow! And I do mean WOW. This talented group of musicians provided the very bedrock for Lisa's perfect vocals to nail Kate Bush's individuality and creative talent. Every intonation, every expressive note was just bang on. As an impressionable teenager, I fell in love with Kate. I've just fallen in love again. If you're only allowed to see one band this year, this is the one to see. |
| | Absolutely amazing, never seen a tribute band that sounded like the real thing. Total tribute to Kate. Definitely well worth going to see. |
| Emma Klein | Saw this band at Festwich with my daughter today and we were blown away!! Musically absolutely amazing, very engaging with the crowd and incredibly friendly. My 12 year old was in absolute awe of the whole performance, you made her day |
| Stephen McDermott | Saw them last night and was made to go by the Missus! Had no expectations at all and not even a Kate bush fan!..until I saw this group. Absolutely brilliant, note perfect, thoroughly entertaining and without doubt the best tribute band I have ever seen. In fact they are one of the best live bands I have ever seen and will travel to see again. The whole audience shared these thoughts too, I waited til the morning after to post a review and I'm still blown away. Stunning band. |
| Warren Bullock | from myself and the cast of Netflix TV show Baby Ballroom...we thought you had a beautiful voice and very authentic to Kate Bush right down to the personality. A great tribute and we thought you were very humble and down to earth - a true professional xxx |
| Claire Kennedy Lubrano | I'm super critical of anyone covering Kate . Been a hardcore fan for 43 years . This really impressed me . Really thought I was going to roll my eyes . I was wrong... brilliant, it really was . Beautiful |
| Ian Hunt | excellent, the closest I've ever heard! Close your eyes and you're almost there! X Thank you! |
| Luca Benzo | Lisa-Marie has the gift of an incredibile voice and a great passion for KB art and music. Her page is a must for every true Kate Bush fan. |
| Jenni Simpkin | Normally hate tribute bands but these folks are absolutely brilliant. |
| Heather Cooper | Even though Lisa was full of cold she (and the group) put on an amazing show. If I had closed my eyes you would have thought Kate Bush was there in person. Had an amazing time and made some lovely new friends. |
| Glenn Johnson | I'd swear I was listening to Kate AND her band. All are talented. |
| Glyn Owen | I saw this band live yesterday and was blown away by their musicality. |
| Mark Chapman | I love this, the music and singer, deliver something that is special and beautiful. |
| Darren James | Saw them for the first time last night. Absolutely amazing band and "Kate's" voice was amazing! I kept closing my eyes and just couldn't fault it. Brilliant. |
| Paul Michael Chilcott | Seen them twice can't wait for the third time next month absolutely brilliant and lovely people.The music and vocals are amazingly so so close |
| Terri Mazur | Great music - so true to the original! |
| George Geiser | Stunning covers of the best of Kate Bush. Not only do you resemble her in looks, you sound exactly like her! Thank you Lisa-Marie for wonderfully replicating one of my fav artists for well over 30 years! |
| Dick Trucker | Wonderful renditions of Kate's singing style performed by a beautiful and talented singer . |
| Steve Collier-Smith | Captures the magic and essence of one of the UK's most creative musicians. |
| Mike Stenhouse | I was so impressed with the band and Lisa-Marie's performance! It was a pleasure to see such a spot-on portrayal of Kate Bush & her music...and so great to hear all these songs played live again...Wow! |
| Sarah Williams | What an amazing gig on Fri night!! Such a beautifully honest & heartfelt tribute to the wonderful Kate Bush! Can't wait to see you guys perform again!! |
| Stephen Lindsay | The uncanny similarity and the reverence in which she sings is astonishing |
| Bryan Archer | Simply amazing friday night at kingsdown wine vaults |
| Alan Richardson | WOW ( no pun intended) I cannot believe how true to KB you are. The band are so tight and the vocals are just incredible. If I close my eyes I'm transported back to Hammersmith in the 70's and the most theatrical music gig I have ever attended. The accents are spot on, range perfect, notation stunning. Add to this the supreme visual likeness to Kate and the package become whole. Thank you for giving Kate back to the music world, i will be seeing you in the future, thats a promise. |
| Carl Burrage | Hi . I love watching your live feeds. You are all very talented with such close attention to every little nuance of Kate's music. Any plans to tour and perhaps come to Norwich? Bristol is quite a trek for me! Carl X |
| Swan Montgomery | Hi, Swan Montgomery here singer from Led Zepagain based in the states. I must say am blown away by your voice. Been a big fan of Kate's for a long time now. Just didn't think anyone else could do it . |
| Archie Dalrymple | "Wow" seems like the most appropriate response..... |
| Fats Harvis | Thanks for an entertaining, impressively accomplished performance. |
| Paul Michael Chilcott | Amazing night loved every minute brilliant. |
| Bartholomew Dixie Normas | Best tribute ever! |
| Christina Hayes | Very impressed, you were all fantastic, sounds really great. Wishing you all the best for future gigs. |
| Colette Cassin-Davies | Excellent!! All brilliant musicians... but your homage to Kate is exceptional!! Well done. |
| Mark Rose | Loving you here in the USA |
| Ross McGlinchey | Best tribute I've have ever heard/seen |
| Palo Daqu | Luvely. Congratulations and Best Wishes from across the pond. |
| Nina Ollerenshaw | Was luckily there to experience a remarkable evening. Just superb all involved. |
| Stewart Higman | Wow! Wow! Wow! Wow! Wow! Wow! Unbelievable! Wow! Wow! Wow! Wow! Wow! Wow! Unbelievable soooooooo glad I didn't miss this... |
| Penny Wilkinson | Absolutely brilliant. X |
| Robert Soper | You are one very talented lady - well done, really wonderful |
| Simon Penn | Fanfuckingtastic. Make sure you come to the Black Country....ps... marry me. X |
| Andrew Chadwick | This makes me like Kate Bush even more. |
| Andy Misselbrook | Wow! Fantastic! |
| Heather Jay Franklin | This is so beautiful guys, a triumph xx |
| Annette Dewgarde | Most people who try to sing kate I have to turn off but you really do the songs justice and can listen and thoroughly enjoy. X |
| Sandra Davis | Wonderfully Talented pianist too. |
| Fats Harvis | Many thanks for an enjoyable, authentic replication. |
| Andrea Brine | Oh my gosh.! I've listened to Kate Bush since I was about 10 years old, she one of my all time faves! You sound absolutely brilliant! |
| Sandra Davis | Symphony in blue probably one of my fav's ,can't be easy to sing this one and you nailed it |
| John Looney Morgan | I am speechless"thank you ". |
| Liz Semple | Beautiful voice |
| Simone Claire Balzama | Fab Lisa, all songs performed well throughout. Not easy material to sing at all. I think you both did a great job. X |
| Nick Stylianides | Fabulous voice Lisa. Very impressed. |
| Tim Hodges | Sounds amazing, well done |
| Peter Hassett | Amazing! |
| Bee Greenwood | Giving me chills |
| Paul Doran | Bloody Brilliant |
| Rose Bell | Lovely. Stunning! Well done all |
| John Looney Morgan | You have just made a 19 stone ex doorman have tears in his eyes listening to this. |
| Andrea Brine | The hairs on my arms have stood up! |
| John Looney Morgan | Breathe x breathe x my god what a performance.x |
| Sally Edmonds | Great keys and vocals. Very nostalgic. |
| Paul Doran | Thank you for that brilliant performance |
| Ali King | I love watching you sing as well as listening, you are a fab performer xx |
| Di Toft | Beautiful! Can't wait to see you live. Brilliant vocals and brilliant piano, well done x |
| Martin Hickmott | Totally awesome, wish you all the best x |
| Dan Rue | Wow, you have her down! Beautiful, beautiful.. Thank you for this!!!!! |
| Ceri Petrie | That was a beautiful performance. |
| Pete Waldock | Great performance. Thank you for the moment of pleasure x |
| Tim Phanco | This is a "Moment of Pleasure." |
| Darren Cornwall | Beautiful you have that 'heartmelting' tone |
| Star Angeliah Cole | A Woman's Work is my favourite Kate Bush Song & you sung it brilliantly! |
| Gary Lovett | Great performance and props to Mark on the ivories... |
| Dan March | What's a moment of pleasure! |
| Helen Griffiths | This is brilliant, well done xxx |
| Faye Richards | Well done, really enjoyed your performance ! |